Farfisa IP Way fully meets the growing demand for modern designed videointercom systems that use IP networks. Aci Farfisa has chosen to realize a "full IP" system in which devices communicate without compatibility limits, typical functions are easily remotely activated thanks to the integration of the Videointercom to the LAN network. Farfisa IP Way is simple and meets the most significant demands of today's systems. It is a door station aesthetically and functionally identical to a traditional push-button panel where you can generate a SIP video call to internal devices: these can answer anywhere if there is a connection. The applications and areas of use can vary greatly: multi-user residential accommodation, industrial premises or professional offices for the simple but secure access control up to management of calls from remote locations. A modern and unthinkable solution until very recently!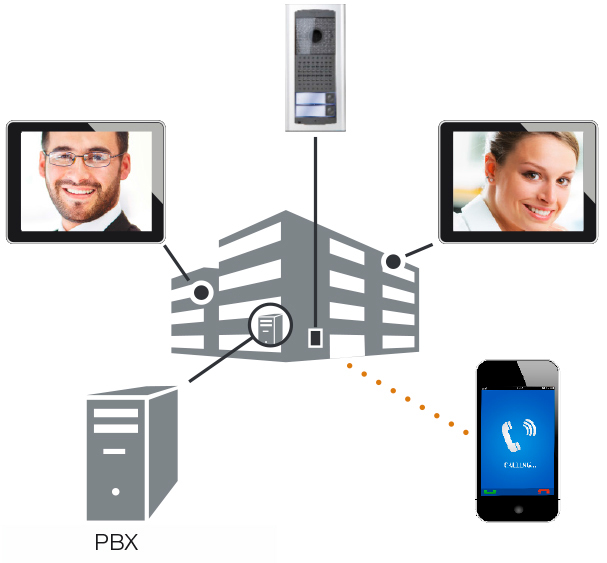 The IP Way videointercom system is compatible with SIP protocol, this means a true full IP.
This choice allows you to easily enter the VoIP world where every device can be connected to the internet: the "real IP" world where communication opportunities with the most popular devices are almost endless. It provides the possibility of upgrades to future developments of the devices, being designed in full compliance with established standards. Without doubt IP Way offers the first step towards a revolution of Videointercom Communication and Access Control where property security becomes much more close at hand.
CALL MANAGEMENT

AGORÀ IP basically allows two kinds of calls:

- Peer-to-Peer: this call mode uniquely associates a user to an IP address. In an AGORÀ IP system the door station calls a device connected to the local network which responds and manages access. This application typically happens in case of limited communication management within the building.

- By means of the SIP switchboard AGORÀ IP door station is also compatible with systems based on SIP switchboards, with this mode, which provides greater flexibility. It is the switchboard itself that handles the communication with the desired extension. Amongst the switchboards suitable for connection you will find the most popular units such as 3CX and Asterisk.